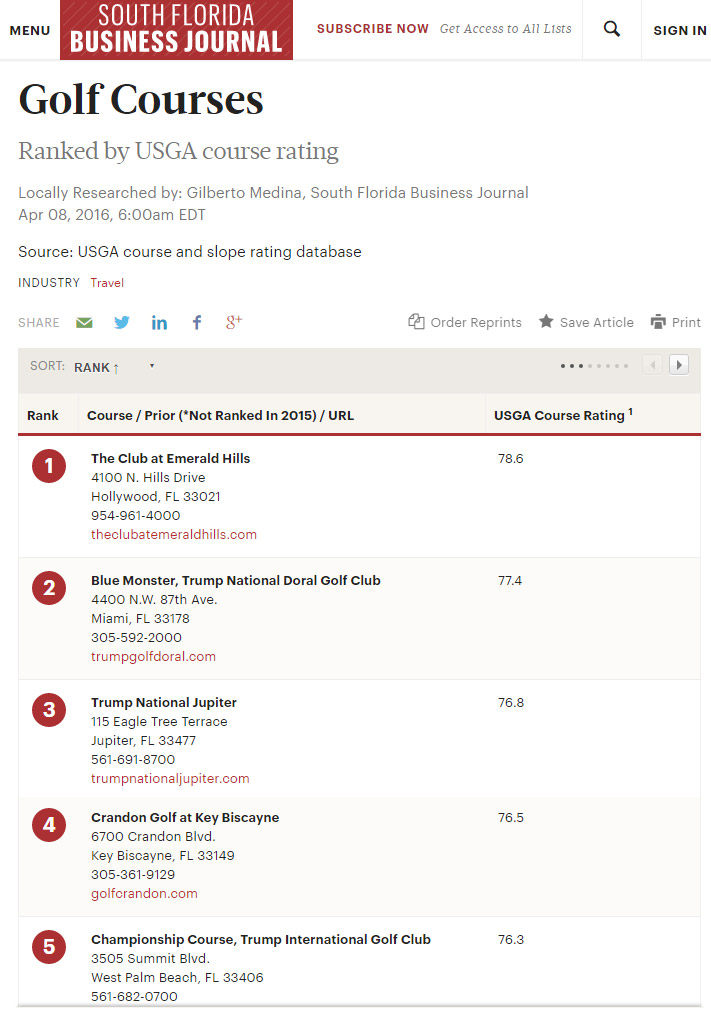 As a new member to the Club at Emerald Hill's team, I am very excited to present the #1 rated course in South Florida by the USGA and the South Florida Business Journal.
Our accolades include:
We have the longest golf course in the state with a tour course layout
A par 5 that is nearly 700 yards long, a par 3 that is nearly 300 yards long
Arguably some of the best golf course conditions
The best staff
The cleanest golf carts
A great practice facility
Some of the most engaged members
The best Junior Executive Membership in the area
Basically, we have the best golf course in the area (but I'm trying to be humble – humble bragging).
Before joining the team at The Club at Emerald Hills, had you asked me what course I would want to be a member – my answer would have been The Club at Emerald Hills. We have a tour type layout and the course is exciting to play. The play is separated by 10 minute intervals, so the round time is about a 4 hour average pace of play. The food is generous club fare and delicious. Of course, we are ideally located between Fort Lauderdale and Miami. We are right off I-95, just a couple miles down Stirling Road. The rates are reasonable and if you want the best rate possible, please visit our website booking system.
You have every reason to treat yourself to one of the best golf experiences in the State (which subsequently puts us in the running for a top course in the United States, which puts us in the running for best course on planet Earth, which puts us in the running for best golf course in the Universe… the Galaxy, all Galaxies, of all time – your move Werner Heisenberg.
Looking forward to seeing you out here…
Joseph R. Semmler
General Manager